I'm not known for my culinary skills, so how did I get asked to submit a recipe for a celebrity Cookbook, which includes submissions from Liam Neeson, Gino D'acampo, and Professor Brian Cox?
I was contacted out of the blue by one of the charities representatives and asked if I'd be interested in submitting a recipe for a charity cookbook. Was this for real?
Could this be a new trent in Nigerian phishing scams? Why would anyone ask me for a recipe. I'm not the type to post images of their dinner on Facebook! After a bit of research about the charity I learned that it was well supported by many well know, house-hold names all of which had provided their favourite recipes, and now I had an opportunitity to help out too. The charity aims to raise funds for the Nottingham Children's Hospital School, providing learning support for children and young people, aged 4 – 18, with a range of medical conditions and strive to provide them with a continuity of education whilst unable to attend school.
They try to get a range of people who young people might aspire to be, such as actors, sports men and women and realised that they only had one artist (the wonderful - Jon Burgerman). Searching throught the Association of Illustrators, portfolio website, it was my work they said "stood out", so contacted me with their request. After such a lovely compliment how could I refuse? The Cookbook, while delayed should be available sometime soon, (Still no news -Latest update Jan 2018) with the proceeds going to this wonderful cause. I urge you to give as much support as you can. More information can be found here www.qmceducationcentre.co.uk and also https://www.facebook.com/DucklingsCharity/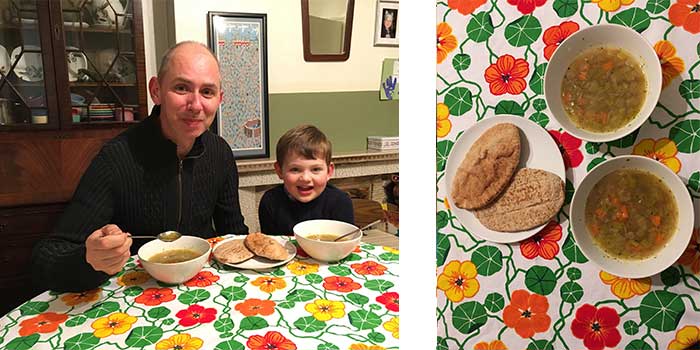 Images of my son, myself and my soup recipe (images copyright Martin Morrison 2017)